Most Valuable Player: Derrick Rose
To me this is a no-brainer but there are a lot of others you could argue for. Kevin Durant is having another great season but Russell Westbrook has been equally as impressive so they end up nullifying each other. We've seen how abysmal the Mavericks are without Dirk and you could argue any of the big three from San Antonio. Kobe, Lebron, Wade, Amare, Howard and Deron Williams are all up there too but there are a couple of mitigating factors that put D-Rose over the top. The first is how well the Bulls are doing amongst all of their injuries. Carlos Boozer and Joakim Noah have only played 9 games together this year which means the Bulls have been without one of their best players for 32 of their 41 games and been without both for one of those games. Despite all that the Bulls are 28-13 and sitting at the number 3 spot in the East and still possess one of the best defensive and rebounding teams in the league and they will only be better at both when Noah is back. Tom Thibodeau has done a great coaching job this year but it all comes back to the leadership of Rose. He has just thrown this team on his back and has shown improvement in ever aspect of his game and he just keeps getting better. Even Kobe Bryant has been extremely impressed with Derrick Rose this year. "I can tell when a player truly wants to be better and does what it takes to improve. It was a quality I had when I was growing up. … I admire that about him. I could really see it from last year to this year.". Oh yeah, Derrick Rose is also averaging 24.5ppg 4.7rpg and 8.1apg. The only other player to average 20+ points 8+ assists and 5+ rebounds (I'm rounding up for Rose) is Russell Westbrook who coincidentally is Rose's best friend and former high school teammate. Also, not that it matters, the two of them were the same draft class, are the same height, weight, have the same reach, wingspan, are the same body fat content and are only 5 weeks apart. So maybe it would be fitting for them to be Co-MVP's.

Rookie of the Year: Blake Griffin
I thought about putting Derrick Favors here but then I remembered I picked him to be a bust so I had to stick with my convictions despite his stellar year (6.5ppg 5.0rpg 0.6bpg) so the next option was Blake Griffin. At the beginning of this year I was asked by several people what my thoughts on Blake Griffin were, my response? Imagine Dwight Howard with a polished offensive game. The next question was how could you stop someone like that? Well Griffin has shown us that you can't. In only his first season he has already become a top 5 big man. On a slight tangent Dwight Howard has shown a great leap in his offensive game which would mean that he and Griffin were equal right? Howard's stats thus far: 22.0ppg 13.3rpg 2.2bpg 57% from the field 59% from the line and 30 double-doubles. Griffins stats are as following: 22.5ppg 12.8rpg 0.7bpg 53% from the field 60% from the line and 33 double-doubles. Howard is obviously a better defensive player (as shown by the disparity in blocks) so I still consider him the better player as of right now but is anybody more exciting then Griffin. Every week I get at least a couple of messages from friends asking "DID YOU SEE WHAT BLAKE GRIFFIN DID TONIGHT?!?!?!" It never fails, the guy is electrifying and he plays with absolutely no fear. My fear is that he is going to get some sort of devastating injury but you can't tell me there is a more exciting player to watch and if you think there is then you haven't watched Griffin enough.
Coach of the Year: Gregg Popovich
This could easily be Tom Thidadeou, he definitely deserves it but I personally don't like giving both the MVP and COY to the same team. Even if I didn't care about that Popovich would still probably be my choice. You always expect the Spurs to be in contention for a title regardless of where they stand in the regular season. That alone tells you what kind of coach he is. For years the Spurs have relied on their big 3 and quite frankly they are past their prime, we all thought that the Spurs window had closed. Well they proved us all wrong by putting themselves on a 70 win pace and are now the favorite from the West when we all thought it was the Lakers and then everybody else. Now it appears as if it is the Spurs and then everyone else. Sure Ginobili and Parker are having resurgent years but Duncan sure isn't and then who else do they have? Popovich has tapped into every single player on his team to get them to play to their full potential. He is done an incredible job and as much as I hate the Spurs I cannot ignore what an incredible coaching job Greg Popovich is doing this year.
Most Improved Player: Lamarcus Aldridge
I know that he really isn't even in the running for this award because he has been too good the past few seasons and his stats really aren't that much better then they were last year but I wanted to give props to a guy that doesn't get nearly the respect that he deserves. The thing that has impressed me the most with Aldridge this season is how assertive he has been. Brandon Roy hasn't been the same player this year and now that he, and half the team, is sidelined by injury Aldridge has taken it upon himself to carry this team on his back. Since Roy has been out of the lineup Aldridge is averaging 25.9ppg and 10.1rpg which is a big step up in production from his previous seasons. It's not just that his numbers are up, he is a much more aggressive player and assertive leader. Anyone who has watched the Blazers play this season is nodding their head in agreement. When I do this at the end of the season I won't be including Aldridge in my discussion for the reasons mentioned earlier but also because he was drafted number two overall in 2006 and Marc Stein has convinced me that if you were a top 5 draft pick you shouldn't be considered for this award because you are expected to be an all star eventually. If I had to give the award to anybody right now I would probably go with Dorrell Wright but we'll get back to that at the end of the year.
Defensive Player of the Year: Andrew Bogut
No I'm not joking about this. You may think I'm just reacting to Bogut leading the league in Blocks and being 5th in rebounding but there is a lot more to it then that. I recognize that the Bucks are disappointing this season (I mentioned it in my preview) but they still have a very good defensive team and Bogut is the anchor of that team. They are 4th in the league in points allowed, 6th in opponents 3-point fg percentage and 8th in fg percentage. Put that with Bogut's stats of 11.4rpg and 2.74bpg and he at least has to be in the discussion. I doubt that he will win this award based on his teams record, KG or Howard will more then likely win it again but Bogut is quietly having a very dominant year on defense.

6th Man of the Year: Serge Ibaka
I have read several mid season reports and I have not heard Serge Ibaka's name come up once which I think is a travesty. I understand that Jason Terry and Jamal Crawford are probably going to be the favorites for this award again but why do we get so caught up on offensive production when we look at guys for this award? Ibaka's stats won't wow you, 10ppg 7rpg and 2.1bpg but he is such a disruptive presence on defense. 2.1bpg is pretty impressive for a starter, let alone a guy coming off the bench for only 26 minutes a game. It isn't just his stats though, he is a true difference maker for OKC and I doubt that the Thunder would trade him for any other bench player out there. If this award is truly designed for the most valuable player coming off the bench then I truly believe that Ibaka is that guy. Come playoff time you will see the impact he brings for his team.
Least Valuable Player: Hasheem Thabeet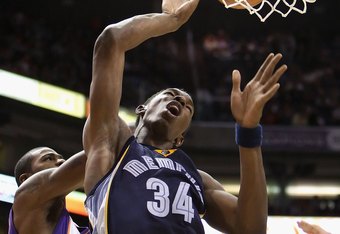 At 7'3" and 267lbs Hasheem Thabeet officially qualifies as the worlds biggest space waster. I talked about the draft 2 years ago and said how I thought that Thabeet would be a complete bust and that his only hope was to go to either OKC or Memphis. Well apparently I was wrong because he went to Memphis and he some how is getting worse. As the second string center he is only playing in 9 minutes a game and is averaging more fouls per game then he is points and rebounds. But kudos for Thabeet, I'm pretty sure that Thabeet is about as useful to the Grizzlies as a typewriter is to a college student and he has some how gotten the Grizzlies to pay him 5 mil a year for that, talk about the American Dream. He is still young so who knows maybe he gets his act together but I don't see it happening and if I were the Grizzlies I would trade him ASAP while teams are still stupid enough to take a chance on him.
Player Flying ABOVE the Radar: Monta Ellis
I say this because Monta Ellis is clearly on nobodies radar except for those in Nor-Cal but you have to be having a somewhat subtle season to fly UNDER the radar, such as JJ Reddick who is having a very solid season but his numbers won't overly impress you. Monta though is having a phenomenal season and I would put good money on him not making the All Star Game. Here is the team that will more then likely represent the West. Centers: Pau Gasol (replacement for Yao Ming) and Chris Kaman, Forwards: Carmelo Anthony (if not traded), Kevin Durant, Blake Griffin, Dirk Nowitzki and Kevin Love/Lamarcus Aldridge (only one will make it), Guards: Kobe Bryant, Chris Paul, Deron WIlliams and Russell Westbrook. That leaves one open spot for Monta right? except that roster has no San Antonio Spur on the roster and since they have the best team in the league right now they will have at least one, probably two players. Manu Ginoblli for sure and then probably Tony Parker or could be Tim Duncan over Chris Kaman. That means there is no room for Monta and even if there was who is to say it wouldn't go to either Aldridge or Love, or even Lamar Odom and hey, did anyone realize that Steve Nash may not make it even though he is having a phenomenal season himself. Quite frankly the west is too loaded with guards so there is no room for Monta. This is why I believe fans to be just as stupid as David Stern, Monta has less all star votes then Derrick Fisher and Stern will never put an unpopular player on a losing team into the all star game. All that aside has anybody looked at the season he is having? Gone over 40 points 3 times and 35 points 7 times. He is averaging 25.8ppg 5.7apg and 2.2spg while upping his shooing percentage across the board from last season and cutting down on his turnovers. He has also been incredibly clutch this season for GS and has them hanging around in the West to possibly jump into the 8th spot out West. I don't want to hear crap about how he plays in an up tempo system, Steve Nash was voted MVP twice while playing in a faster paced system then the Warriors play. Amare Stoudemire is an MVP candidate while playing in an up tempo system and everybody is just raving about Kevin Love and his stats but he is playing in the fasted paced system in the whole NBA, GS is at number 4. So I won't buy into that, GS played at a pace of 102.7(possessions per game) last year and are now at 97.7 pace and Monta has improved his stats from a year ago. Also if it helps give you some perspective in Nash's two MVP seasons the Suns ran at a pace of 112.3 and 112.0, that's a big difference from what Monta and the Warriors are running so if I hear somebody make the "uptempo" argument I will slap you. Still I highly doubt that Monta will be playing in LA on Feb 19 and he will get his second straight horrendous All Star Game snub.