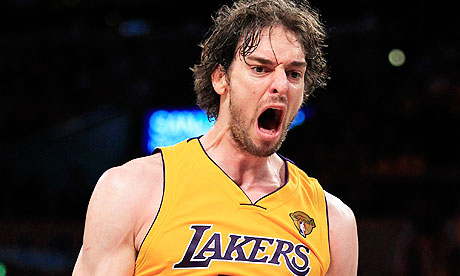 Remember the 2008 finals? Unfortunately for Boston both the
Lakers
and Celtics remembered it all too well. The Celtics came out and looked like they believed that the
Lakers
were the same team that got pushed around by them two years ago while the
Lakers
came out and made a point of it to do everything short of
pantsing
Boston to bully them in game 1. I haven't been this impressed with a
Lakers
win since game 6 of last years Western Conference Finals, they did everything a Champion needs to do. I expected the hustle and the game plan of going inside to challenge the Celtics, I did not anticipate them to be the more intense and aggressive team on defense. Their whole game plan was focused on the defensive end, even on plays when they were clearly beat you never saw the
Lakers
standing around, they constantly rotated and played great help defense. Even on plays were there was no chance of them preventing a basket somebody was always flying in to make one last desperate attempt and it even worked a couple of times, I have never been more impressed with the
Lakers
defense. Also I was incredibly relieved to see Phil Jackson start Kobe off on Rondo instead of waiting til game 4 or 5 to make the switch like he tends to do. The
Lakers
came out with a specific mindset and they stuck to their
game plan
from the start. On the other hand I couldn't begin to tell you what Boston's
game plan
was. The only player to get going was Paul Pierce but even he had to work for everything he got.
Garnett
looked like he did when he first came back from his knee injury and Rondo just completely disappeared after the first which was strange, he usually waits until the fourth to do that. I can't begin to explain why the Celtics wouldn't try and get KG to body up on
Gasol
and punish him inside. If a guy like
Gasol
is that fired up about completely dismantling his "soft" label you need to do everything you can to try and crush that drive. Think of how
demoralizing
that would have been to him to get
tossed around
by
Garnett
in the game he has been looking to redeem himself in for 2 years and yet
Garnett
just kept roaming out of the paint settling for jumper after jumper, the only thing going for him is that his shot was on. I'm giving Allen a pass this game because of his foul trouble, I thought he just played good solid defense, he really only had 3 fouls that game from what I saw, the refs called it pretty fair for the most part but they need to ease up on the excessive calls, it takes the stars out of the game and completely destroys the flow. Of course it was Joey Crawford, I could just imagine Duncan watching and breathing a sigh of relief that he wasn't playing. This was the first playoff game that Boston has played with the big 3 that I believe they were
severely
outworked, it just isn't them, I was shocked to see them look so
lackadaisical
out there. One of their big problems I believe is that they were too damn cocky. Every press conference I heard from the players, not Doc Rivers, sounded like this was a sure thing for them, there was a lot of smack talk
disrespecting
going on from the Celtics. Granted they earned the right to do that a little bit but it was completely contrary to the
Lakers
who were all business in all of their interviews and it showed in the game
preparation
. All of that being said the Celtics are
savvy
veteran
team, I believe there is a greater chance of being growing to 6 feet by Sunday then for them to come out with the same intensity they did last night. This next game will be a completely different
story
for them but be assured that the
Lakers
are aware of this. They landed a staggering blow to the Celtics but they know it will take everything to knock them out, they will come out of the gates swinging in game 2 as well and I expect them to pull out a tight one.