Not to toot my own horn to much but last year I correctly predicted every series in the playoffs other than the Bulls Celtics. I'm not talking first round I'm talking the whole playoffs, and I know without a shadow of a doubt that now that I am actually writing it down this year that I will most likely fail miserably this year but I got to at least give it a try.
Western Conference
1. Los Angeles

Lakers

vs. 8. Oklahoma City Thunder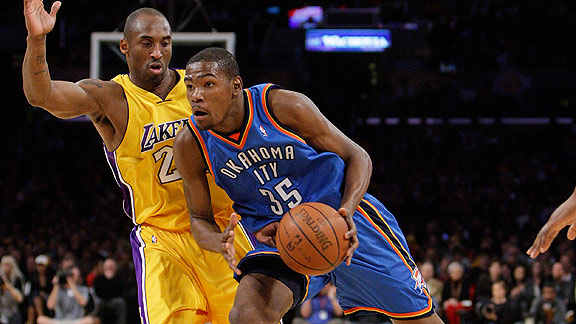 There has been a lot of talk about how the
Lakers
are not the same team as they were last year, they aren't playing good team basketball, the team chemistry is gone and so on. First off people talk every year about how important
Bynum
is to the team and then completely ignore it when he goes down with injury when discussing what might be wrong in
lakerland
. The
Lakers
have been plagued by injuries all year but it appears as if the key guys are getting healthy so that shouldn't be an issue. Their biggest problem is complacency right now but that is nothing knew with championship teams. Here is an interesting tidbit for you, the
Lakers
are trying to reach the finals for the third straight year, when the Bulls had their first 3-peat the third year of that run they weren't even the favorite team to win it all, they were actually third. The Bulls were being written off early and they finished at 57-25 while the favorite Suns finished 62-20. The
Lakers
this year are right now considered either 3rd or 4
th
to win it all, their record? 57-25 Cleveland's record? 61-21. Also don't forget who coached those teams for the Bulls and it isn't the only other time that Phil has had to deal with this. Remember the 01'-02' season? The
Lakers
that year went 58-24 and didn't even win their division. I know the conference finals is mired by a lot of controversy but the
Lakers
still got it done in game 7 and
finished off the Nets for the Championship. Oklahoma City does have a team that is more than capable of pulling off an upset but they don't have anything that resembles Playoff experience and the
Lakers
have just too many mismatches for the Thunder to handle
Final Outcome:
Lakers
in 5
2. Dallas Mavericks vs. 7. San Antonio Spurs
This isn't your typical 2 vs 7
match up
, it never is with San Antonio. With that being said I still like Dallas by a lot in this series. The second they made the trade with Washington I knew that they were going to be vastly improved and I already thought that they were going to over achieve this year. I also thought that San Antonio was going to be at worst a top 4 team this season and that obviously didn't happen. I still think the Spurs have the team to make some noise this year but they have just had too many injuries and I really under estimated the age factor. Duncan isn't himself, Parker is an unknown at this point in the year and
Ginobli
isn't going to be able to carry this team by himself to a win against a much
deeper
Mavs
team. Dallas is long, athletic and has much fresher legs right now. I know that you shouldn't bet against the Spurs but Dallas has already proven they can beat them in the playoffs and when push comes to shove the Mavericks are simply the better team and should come away with the series win.
3. Phoenix Suns vs. 6. Portland Trailblazers
This
match up
would be much more intriguing if Brandon Roy's season wasn't already over. Poor Portland just can't buy a good break, plenty of bad breaks going for them this year, literally. I can't remember a basketball team ever having this many injuries and yet the Blazers are still the 6 seed with a 50 win season. They have shown a ton of heart and grit this season and you need that in the playoffs. With that being said I still like Phoenix in this series. Phoenix is playing great basketball and they have been consistent all season long. Grant Hill was recently quoted as saying this team has the best chemistry of any team he has ever played on and that is huge for this time of the year. Nash is still playing great basketball and major kudos to Amare Stoudemire for his season performance with all the trade speculation going around. I mean seriously why would you ever want to trade this guy away? He obviously has the heart of a lion after coming back from TWO micro-fracture knee surgeries, he plays his best ball in the playoffs and he is a great compliment to Nash and that offense. I still don't think that Phoenix has enough D to win it all but I could definitely see this team in the Conference Finals and I'm fairly confident that they get out of the first round.
Final Outcome: Suns in 5
4. Utah Jazz vs. 5. Denver Nuggets
On paper this is the best first round
match up
by a long shot. You have two high powered offenses with great point guards and legit stars, they also have two of the most playoff seasoned coaches in the NBA. However I can see this playing out as a very one sided series for the Jazz. I said before the season even started that the Nuggets were going to struggle at some point this season and things were going to start falling apart chemistry wise for this team and that is exactly what happened. This team just doesn't seem to enjoy playing basketball like they did last year and that is going to hurt them. I would like this
match up
for Utah much better if
Kirilenko
wasn't injured for this series but I still think that Utah has more motivation to win now then Denver does.
Melo
might have a big series since
Kirilenko's
length won't be there to bother him but I think that
Deron
Williams is really going to step up and that will wear out
Billups
as the series goes on. Also Utah has flipped the script on Denver, one big question mark that always seems to be surrounding the Jazz is their road performances but this year they were a very good road team while Denver was a sub .500 team on the road and I could easily see Utah stealing one in Denver.
Final Outcome: Utah in 5
1. Cleveland Cavaliers vs. 8. Chicago Bulls
This is by far the most one sided series of this playoffs, Cleveland is notorious for destroying teams that are less talented and while I'm a huge fan of Derrick Rose the Bulls just simply don't have enough to fire power to match up with the
Cavs
. They make their home games interesting but I'm expecting a pretty easy series win for the
Cavs
, which will be enough to give
Cavs
just that much more false hope. I do like the the team that the Cavaliers have but keep in mind they have 5 new players on their rotation this year from last year and when they are finally tested I'm afraid that their chemistry isn't going to be there and it is going to become the
Lebron
show again which won't win against the other big boys. Plus I will never bet on a team that has Mike Brown as their head coach,
Cavs
will roll early but I see a very similar
scenario
playing out as last year.
Final Outcome:
Cavs
in 4
2. Orlando Magic vs. 7. Charlotte Bobcats
This is a series that will be much more interesting to
game cast
then to actually watch. These are the two most efficient defensive teams in the league which wins games but doesn't necessarily sell ratings. I think that Charlotte can surprise the Magic especially if they get caught looking a head to the later rounds but I don't see that happening. Orlando is as hungry as any team out there and more talented than most. People keep talking negatively about losing
Hedo
and gaining Vince Carter but I still like the deal. Carter has gotten more comfortable in the offense and keeps getting better as the season goes on, plus Orlando is deeper this year than last with
Reddick
playing better, Ryan Anderson, Matt Barnes,
Marcin
Gortat
and Jason Williams all coming off the bench. Orlando might get surprised in an early game this series but they will bounce back and they should be in the Finals again this year and yes you can quote me on that.
Final Outcome: Magic in 5
3. Atlanta Hawks vs. 6

Milwaukee

Bucks
I really wanted to pick the Bucks in this series, mainly just for the "Fear the Dear" slogan and their awesome fan base but without
Bogut
I just don't think they have enough up front to compete with Atlanta. Atlanta is too deep, too talented and with home court advantage I think that the odds are just too stacked against
Milwaukee
. This should still be an interesting series to watch and I cannot wait to see the Bucks first home game. Atlanta is in for a bit of a surprise I think but should still find a way to get out of the first round against an over achieving Bucks team. But don't be surprised to see this series get dragged out for a while, the Bucks have absolutely nothing to lose and the Hawks are the type of team to get caught looking ahead.
Final Outcome: Hawks in 7

4. Boston Celtics vs. 5. Miami Heat
I honestly don't know what to make of this series, Miami still has no one outside Wade which makes me think they can't beat a team as deep as Boston and on the other hand Boston has lost all heart and swagger which makes me think they can't over come a hungry superstar like Wade. I'm seriously lost on who to choose for this one, if Boston can dig in even just a little and find some of that old championship attitude they should be able to pull this one out so I am going to go with that. I'm also going with them to win because I really want them to
re find
themselves some how because if they do I can see them taking down the mighty
Lebron's
but they don't stand a chance if they can't find any heart. Wade is in a prime position to put on the show of a life time and I think he should do it but I don't know if he is going to get enough help although Miami gained some momentum down the stretch by playing nearly every bottom feeder team. Still I'm going to say not enough depth and talent to pull this one out but I'm not giving permission to quote me on this one
Final Outcome: Celtics in 7???