As we enter into one of the most anticipated NBA seasons in recent history there are a lot of questions swirling around the league. ESPN made a very feeble attempt at trying to answer some of these and it took everything in me to not cry from laughter as I read it. So I figured since I didn't have time to do a complete team by team preview this year I would re-answer these questions properly. Also I will provide some other insight and include a few extra questions of my own, here is the link for ESPN's article on the 20 questions
http://sports.e
spn.go.com/nba/preview2010/news/story?page=Roundup-
20Questions
1. Will the Lakers Three-Peat?
In short, yes. Anybody that reads this knows that I am a die hard Lakers fan and granted I will admit that I am bias but they are the two time defending champions and I believe that this is the deepest team that they have had yet with the additions of Steve Blake, Matt Barnes and Theo Ratliff. But there are three guys that nobody is talking about with this Lakers team and they are Shannon Brown, Devin Ebanks and David Character. From what I've seen in the pre-season and in the first regular season game is that Shannon Brown could be in contention for 6th man of the year if he continues to get big minutes. His confidence is at an all time high and his jump shot is much improved giving him a great all around game on offense.
Devin Ebank
s continues to freak me out with how much he is like Trevor Ariza. Ariza stand
s at 6'8" 210 while Ebanks is 6'9" 215. Both play SF and wore the number three for the Lakers and have extremely similar
games. Not only that but both have super lon
g wingspans, Ariza's is 7'2" while Ebanks has one of 7'4". This one always gets me, both players were
drafted with the 43rd overall p
ick a
nd if that isn't enough, they freaking loo
k a like and have virtually the same tattoos on their left arm.
With all that being said I'm super high on this guy, he plays wit
h aggression and tenacity, he won't play enough to really stand out to people but this guy has a ton of game and should have a
v
ery successful NBA career. When he finally gets a chance to play in a year or two he will be a Most Improved Player award finalist. Character may not be as talented but with Bynum out may get more of a chance to play. He also gets after the ball aggressively and is a great hustle guy. He may not have a ton of upside but he can definitely be a key contributor to this team. With all the extra depth, a slightly
depleted Western Conference and a very hungry Kobe Bryant and Phil Jackson the Lakers should be hoist
ing the
Larry O'Brien trophy for a third consecutive year.

2. Are the Bulls Back?
First off this is a very stupid
question, to me the Bulls being back means th
ey are back to being the greatest dynasty in basketball and that probably will never happen again. They are moving in the right direction and I think that Derrick Rose is primed to take his game to an MVP type level, he is my sleeper pick for the award this year. I've been saying ever since all the off season moves that I believe that the Bulls will take down the Heat in the second round of the playoffs. I
think that the Bulls are the 4th best team in the East but the third best playoff team. Miami will more then likely win a title soon but it won't be this year, they simply don't have the coaching or the depth. Perhaps Pat Riley takes over soon but I still think they are at least a year away, too many other elite teams have too
much stability and much better coaching. You may laugh and scoff at this bu
t I said the same thing the last two years about the Cavs and I think I earned the right to say I told you so. So no I don't the Bulls are "back" but with an improved Rose and Joakim Noah as a core
surrounded by Carlos Boozer, Kyle K
orver and Luol Deng with a much better (yet inexperienced) coach in Tom Thibodeau this team is ready to make some serious noise out East. One last side not on the Bulls is that I love their fans. The second that Lebron James announced that he was going to do "The Decision" they immediately turned on him and decided they didn't want a narcissistic punk on their team, awesome!
3. Will the Heat win 72?
What should I do? Should I tell you that I knew Lebron would tank in the playoffs, that he isn't born to win or that he needs to piggy back off another superstar? What should I do? Should I not listen to my friends about how good the Heat are? They're my friends What should I do? What Should I do? Should I tell you what you want to hear?
Well unlike Lebron I'm going to give you an actual answer to a question. No, the Heat will not win 72, the East is too competitive and I like I said this Heat team still needs a
n
othe
r ye
ar or so. I am so sick of hearing every stupid ESPN analyst saying that the Heat are built
to w
in this year. Their three headed monster has just now hit their prime, all of these guys have several years left of
dominance, they have are built for a future dynasty.
They don't have the depth to win
72 games or a championship this
year. I still say
they are a lock for a top 3 seed but they won't be finding themselves even in the finals this year. Their biggest short coming is at the center position, every team they will be in contention with will
dominate them in this aspect and you can't win that way. Nearly every Championship team of all time ha
s had some sort of dominating big man, particularly at the defensive end, the Heat just don't have anything close to that. They will attem
pt to make me look stupid but trust me, come playoff time they ar
en't going very far.
4. Will Kevin Durant Be MVP?
I say yes, Kevin Durant has everything going for him this year. A great young squ
ad that is built for him to thrive and be successful with. The Thunder are ready to take it to the next level but they only go as their super star goes. He had an incredible World Championship this Summer and that should carry over into the regular season. He still possess incredible guard skills but is starting to play bigger with his 6'9" frame. His scoring will probably be around the same but expect a much better rebounding year from him, possibly a double do
uble average, and a big impro
vement in his defensive stats. My other possibilites for the award are Derrick Rose, Deron Willi
am, Kobe Bryant, Chris Paul and Dwight Howard. I don't see L
ebron or Wade winning
it as a duo and out of the other
possibilities I have Rose as my dark horse and Deron Williams as my runner up but
all in all this is Durant's
award to lose

5. Where will Melo go?
The fact that we
are still asking this question is one reason I couldn't finish my pr
eview, he obviously isn't going to be staying in Denver
and the most likely destinations at this point are the Knicks and Nets. I say it will end being the Nets if it happens sooner then later because they have a lot more to offer as far as young talent. Terrence Williams would have an immediate impact for the Nuggets and
maybe Derrick Favors could even be included in the trade, which would be great for the Nets since I believe the guy to be a bust and a half
. The longer this thing plays out t
he great the chance the Knicks have of landing Me
lo because even though they don't have much to offer the Nuggets they have some expiring contracts that will be
a nice concellation prize for them to make a splash in free agency and not take a total lo
ss on the deal. So for now I say the Nets but if it doesn't happen soon the Knicks become the favorite, regardless of which team it is they will be in the playoffs for sure if they land the 6'8" swingman.
6. Will Wall win ROY?
John Wall has a chance to be a very special player but I'm not convinced about his maturit
y. I don't think he is a guy that you need to worry about concerning his character I just think he may have some more growing up to do then people think and having Gilbert Arenas as a teammate is not going to help him at all. Blake Griffin is my pick for the award, not only has the
guy been an absolute freak in the pre-season but he is in a much better situation then Wall and he is a much more proven competitor then Wall and he will be on a mission to prove himself this year. If he s
tays healthy then I think the Clippers can easily find themselves in the playoffs this year.
7. Boston still the beast of the East?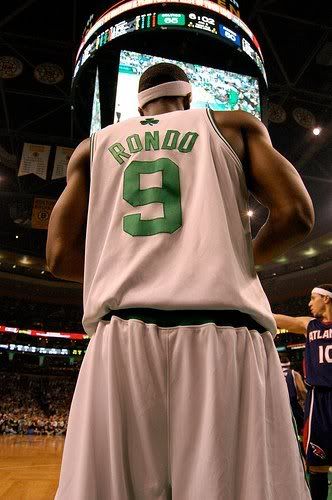 If you are talking about the regular season then no they aren't, I could realistically see them finishing as low as the four seed again although they will probably finish either 2 or 3. But are they still the team from the East most likely to make it to the finals? Absolutely. They quietly had a good off s
eason and added some good depth. They may not be built for the future with their age or even for the regular season but they are built to win a championship and they very well might. I wrote last year that if I wasn't bias towards the Lakers then I probably would have picked Boston to win the Finals and I feel the same way this year. Sure they are old but as lo
ng as they stay relatively healthy heading into March and April they will be just fine. Forget the Big 3 this is no doubt Rondo's t
eam and he will m
ake things very easy for the rest of their starters which will really help keep their legs fresh. Unless Rondo gets hurt for the playoffs
this team will be back in the Finals to face
the Lakers for the third time in 4 years.
8. Knicks in the Playoffs?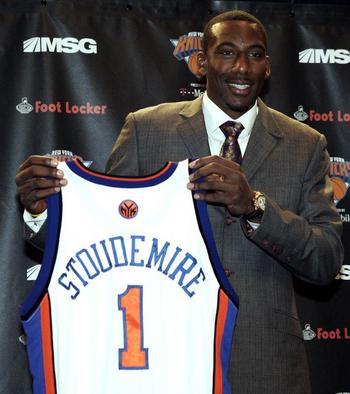 I say yes, especially if they can land Carmelo Anthony but even if they don't I see
see them sneaking into the playoffs. Amare gives them a nice go to guy on offense but the guy I'm focused on this year is Raymond Felton. He is
my pick for Most Improved Player this year.
The
guy is a fast, pass first PG who has a pretty good scoring touch and a good 3 point shot which is the absolute perfect fit for Mike D'Antoni's system. Expect his numbers to balloon in this new up tempo system to around 17 points and 9 assists. As long as Fe
lton plays at a high level then the Knicks will find themselves in the playoffs this year.

9. Are the Suns done?
I don't even understand this question, sure the Suns made it to the
Conference Finals last year but did anybody really think they were a Championship
contender? They simply have never been built for the post season so are they "done"? I don't think so.
The biggest knock on them is that they can't rebound, apparently Amare Stoudemire was a great
rebounder, that certainly is news to me. The Suns have never been a go
od rebounding team so i
t isn't like they are making some huge adjustment. They still have Nash playing at an elite level, Richard
son is still a good scorer and Turkoglu gives them a lot of versatility up front. They will still be one of the leagues most dynamic
offenses and will probably find themselves in the playoffs around the 6 to 8 seed. Don't sleep too heavily on the Suns, Amare was not as in-expendable as peo
ple may think. Just give them some time to gel and they will be fine.
10. Can Blake Griffin carry the Clips?
Again, I don't get this idiotic question. He may be the missing piece to the puzzle and th
e focal point of their offense but in no way is he going to be required to "carry" this team. Baron Davis may finally come to play now that he
has an above average team, Chris Kaman is a very good center and will help take pressure off of Griffin up front and Eric
Gordon is a very gifted scorer who had a phenomenal World Championship this Summer. Can he carry the Clippers? sure I guess but we won't ever find out because that isn't his job and
to think that it is to me is absurd. Why am I answering these retarded questions again?

11. How is Yao?
Who is coming up with these questions? Seriously what the heck? How are we sup
p
osed t
o know how Yao is? he hasn't played in over a year and we have only had the pre-season and one regular season game to judge him by. Based on how big he is and how gifted he is offensiv
ely he will be fine, his minutes are limited but Brad Miller is a great guy to have coming off of the bench and Yao
won't be relied on as heavily has he has in the past with Aaron Brooks becoming an All Star level PG and Kevin Martin doing a majority of the scoring for the Rockets this year. W
e just have to see if Yao is going to hold up physically, that is what the qu
estion is and obviously th
ere is no way to even start to answer that. Freaking ESPN

12. Can the NBA Avoid a Lockout?
Sure they can, will they? I doubt it. David Stern is too stupid and too stu
bborn to allow a new agreement to get done unless it is completely on his terms. He is probably the worst commis
sioner in the
history of sports and as long as he is calling the shots on this thing it won't happen. Since we are talking about
him what the heck was Stern thinking when he decided that there should be an automatic technical assessed to any player who leaves their hands in the air
after a foul or makes any gesture at all? Eric Gordon got a technical for tapping his arm after a lay up because he got hammered and there was no call! Seriously?!?! Pretty soon they are going to give out masks to players so that no expressions can be seen during ga
mes, Stern and Roger Gooddell (NFL Commissioner) need to realize that players have the right to express themselves, I understand limits but give me a break guys.
13. Should we expect the Blazers to stay healthy?
Well first off they aren't healthy right now so the question again doesn't make sense and the other things HOW ARE WE SUPPOSED TO KNOW?!?! There are certain things that you can have a pretty good indication of but injuries can be so random, I mean for particular players like Oden or Bynum sure you can probably guess that they will not play a full season
unhurt but to pred
ict that for a whole team is ridiculous. I'll tell you this though if the Blazers can get healthy and stay healthy they could end up being the second best team in the West this year. Don't sleep on
them and for crying out loud ESPN stop asking stupid questions about injuries
14. Have the Cavs hit rock bottom?
I think that the city of Cleveland has but I think the Cavs still have a pretty good tea
m. I have been so tired the last two years about hearing how Lebron James had no help while he was there, it simply wasn't true. Mo Williams is a very good PG who was never gi
ven the proper freedom in the offense, Antwan Jamison is a very good offensive player, Ramon Sessions is a great option coming off the bench, I hate Varejao but I guess he gives them "character" (nicest thing I can say about the over hyped piece of junk douche), they have great three point shooters to spread the floor and they have a very proven coach in Byron Scott. ESPN has this team as their third worst team in the NBA and SI has them as the second worst in the East. I think this is a gross under estimation of the team that Cleveland has. I'm not saying they will make the playoffs (even though they could) or scare a ton of teams but they are quite a bit better then pe
ople think and they do have cap room and draft picks to try and and make some noise
in the future, maybe they get lucky again an
d land Harrison Barnes in the upcoming draft, karma is a funny thing.
15. Are we sleeping on the Jazz and Grizzlies?
ESPN I'm sure is, I'm not, at least with the Jazz. I liked the
combination of Boozer and Deron Williams a ton but I think that Jefferson is a much better fit for the offense then Boozer. Jefferson is a much bigger body and allows the Jazz to start both him and Paul Milsap and have a guy like Okur coming off the bench. The loss of Korver definitely hurts but they will be fine. Jefferson will have a big year now that he has had more then a full year to recover from his knee surgery and is much better with his back to the basket then Boozer ever
was. The division is going to come down to the Jazz and Blazers but because of the current (remember I said current) injuries to the Blazers I'm givi
ng the edge to
the Jazz. The Grizzlies I'm not too sure about, they have have gone undefeated in
the preseason and had a very nice season
last year which I thought they might but they still don't have a go to guy. Rudy Gay is a very good player but the Grizzlies are simply stocked with number 2 and 3 options. They need to find that guy they can rely on night in and night out. I don't se
e them making the playoffs until that happens. They did improve quite a bit last year but they aren't going to be sneaking up on anybody this year and we'll see if they can still keep that cohesiveness together for this season.

16. Are the Magic tough enough?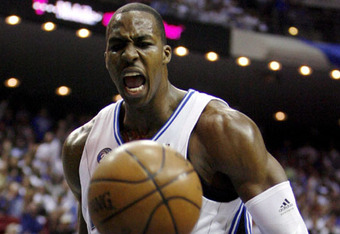 I'm just going to stop making comments about stupid questions because I just can't think of any more ways to make fun of ESPN. Yes the Magic are tough enough, they are only two years removed from the
NBA Finals and even though they lost in 5 they went toe to toe with the Lakers that whole series. Last year they weren't overly impressive against
the Celtics but they still made it to the Conference Finals again and have virtually the same team as last year. Dwight Howard leads a very balanced Magic attack and I wouldn't be a bit surprised to see them back in the Finals but I still like the Celtics just a little bit more. Especially this year I wouldn't question their toughness, they are going to be playing the whole season with a chip on their shoulder after flying under the radar for the past few months.

17. Can the Mavs make a move in the West?
Aggghhhh ESPN, whatever. The answer is yes, I mean is this seriously a question? what did they do to get worse? nothing. What did they do to get better? not much but Roddy Beabouis should be a force off the bench when he is back and Tyson
Chandler gives them a very nice option at center and as the reigning division champs they should have a good opportunity to repeat last years season success, we'll just have to see if they can translate that into the post-season this year. But they still have a super talented and athletic
team and will be a top tier team in the West this season. Also Beabouis is my second pick for Most Improved as long as he comes back strong from his injury.


18. Is Tim Duncan in decline?
Yes. His production on a per minute basis is still there but the knees aren't holdin
g
u
p great which happens when you are a big guy and 34 years old and he just doesn't play as mu
ch anymore. He hasn't played over 35 mpg since 03-04 and he will probably be around 30 mpg this year. He is still a force to be reckoned with which is what happens when you ar
e the most fundamentally sound big man in the game he just simply can't play as many minutes these days so ya he is on the decline and has been for some time. Doesn't mean he still isn't an elite player, just means he has to adapt his game some which is what all the great players end up doing. Spurs are still a very good team and Duncan is still the man for them.


19. Will CP3 be happy?
Finally a legit question. I truly believe that Chris Paul wants to be in New Orlea
n
s and if they can get back to winning and he stays healthy then yes he will be happy. He realizes though that this league is all about winning and unlike Lebron James, he really isn't in a situation that he can grow in. New Orleans has screwed themselves over so badly financially that ther
e really isn't a lot of hope for them to be a
consistently good team. Paul knows this and although I think he wants to stay he realistically can't if he ever wants to win a ring. Lebron James had plenty of options to win in
Cleveland but chose the easy way, I don't think Paul is doing that but I think he continues to ask for a trade if they Hornets can't win now because there isn't any hope for them for the future unless there is a drastic change in the way the team is run.


20. Will Riley return to the sideline?
Yes but I'm not sure if he will this year. I can see it playing out where he takes over but I think it will happen next year because I don't know if Pat Riley believes his team is
ready to win right now. He is too smart of a basketball mind for that, I think he lets his team develop for a year, adds another piece or two and comes back next year, it would be a dream scenario for him if it is a shortened season so that he wouldn't have to sit on the bench for the whole year. It isn't for sure by any means but I have a hard time seeing him not being on the sidelines with this talented of a team, I'd put money on him coming back within the next 12 months.

My added questions
1. Which team this year has the best chance to be last years Bucks?
The Bucks took everybody by surprise last year by claiming the 6 seed in the Eas
t
led by a rookie PG that nobody knew about coming into the season. Nobody saw it coming and I was one of their biggest critics and I'll admit it, not in a million years did I see that one coming. So this year I figured I'd take a chance on a team this year. I tried them last year and they didn't do all that great so this year I'm going to try them again and go with the Indiana Pacers. They have a very young roster but they did show a lot of potential last year. Roy Hibbert is a huge body at 7'3" and will anchor that defense with his shot blocking ability. We all know about Danny Granger's offensive scoring power and it is nice to have a guy li
ke him to go to on every possession. Darren Collison is a star in the making at the Point position and will be a big improvement over the inconsistent T.J. Ford. They also have a lot of grit with guys like Tyler Hansbrough, Josh McRoberts and Dahntay Jones. Also Mike Dunleavy and Brandon Rush give them the ability to stretc
h the floor. They are supposed to be a bottom feeder team this year but I can see them making the playoffs this year. I think a couple teams out there like the Bobcats and Pistons are very overrated this year and I could see the Pacers sneaking by them. Especially since they play in a fairly weak division with no clear favorite. If any team is going to surprise you this year it will be this team.
2. Who is this years Memphis Grizzlies?
The reason I threw this one in there is because there is a team out West that I think can surprise people but still doesn't really stand a real chance of making the playoffs and that is the Golden State Warriors. The Warriors still have an amazing offense focused around their guard play but they finally have a go to big guy in David Lee who will also really help their poor rebounding. The other thing is that this team is finally healthy, whether they stay that way
or not is a mystery but as of now they have a team that can surprise people and I wouldn't be surprised to see them elevate to around 40 wins t
his year. I watched them some in the pre-season and Monta Ellis is still an elite scorer but this team appears to be in the hands of Steph Curry and he appears ready to be the leader for this team. He has a great all around offensive game and keeps a cool head in pressure situations. He still needs to cut down on the turnovers and work on his defense but he has shown improvement there bu
t that is one reason I don't see them making the playoffs this year. Don't be surprised though to see them sneak up on teams and give fits to a lot of really good teams this year.


3. Who is this years sophomore sensation?
Hasheem Thabeet!!!! haha if only. After a great season from last years rookies and sophomores it is safe to assume we are going to have at least one guy who is really going to emerge this year like Rose and Westbrook did last year. To me there are no real surprises, it is going to come to the guard trio of Curry, Jennings and Evans. I'm giving the nod though to Curry because he continued to get better throughout the season last year which is very rare for a rookie. Jennings hit the wall and Evans was just consistent but did hit the wall a bit. Evans just does
n't seem to me that he has a very high ceiling for his game which is fine considering he already plays at near All Star level. Jennings is going to be great b
ut he still has to fine tune his game quite a bit. Curry simply has the best all around game right now and will have the most opportunity to shine. There are a ton of players who could really come through this year especially at the guard position. I've already mentioned Collison and Beaubois but there are two more guys you may be sleeping on this year. One is Dejuan Blair, the guy is a beast on the boards, has a great work ethic and with Duncan aging he will get a lot more minutes this year. The other guy is Terrance Williams. Think of Williams as a shorter more athletic Lamar Odom. The guy is a freak of an athlete who doesn't do anything great but is just solid top to bottom. He could really thrive in the 6th man role this year and emerge as a go to scorer for the Nets. I'm going with Curry but don't sleep on Blair and Williams.


4. Did Tracy McGrady die?
Worse I'm afraid, he went to Detroit. Everybody had forgotten about Tmac thi
s y
ear a
nd
you can't really blame them. He hasn't been a force in this league in a couple of years and time is not on his side. He is injury prone, getting old and not in a good situation really in Detroit. He can be a productive bench player for the Pistons but his glory days are over and he is on a team that is stuck with a GM who has made some genius moves and is now panicking to rebuild his reputation and team. McGrady's best option is to show that he still has some production left in him this year and hope for a trade deadline move to get him to a contender, possibly Chicago, Orlando or maybe even the Thunder. He could have an impact and when the the Pistons find themselves out of the playoffs look for them to move him.